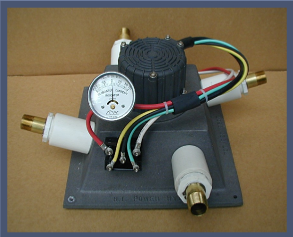 LV 1500 is a very small and efficient hydro power generator (max. power 1500W) made by Hydro Induction Power, a company based in Redway, CA  http://www.homehydro.com/.
The LV1500 re are 12V / 24V / 48V models build around a stainless steel Turgo runner, a brushless alternator and a rectifier.
Impressive is the that it works with 60 to 600 feet Head range and 5 to 100gpm Flow range.
For a greater energy need ( max. 4KW) they offer also  another product range here: http://hipowerhydro.com/